The giving of lovespoons dates back to the 17th Century. Traditionally, they we given by young men to young ladies in the hope that they would lead to courtship or engagement. If the young lady accepted the spoon she was accepting the young man's interest.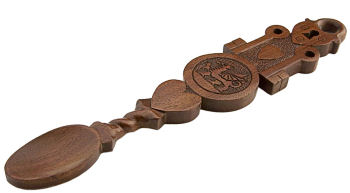 Lovespoons are carved by hand from one piece of wood. The handle is made up from a range of symbols, all of which have their own meaning. Do a Google or Bing image search to see some real Welsh lovespoons. Our lovespoon crafts would also make a lovely activity for Mother's Day or Valentine's Day.
Wooden Lovespoons
You will need:
A wooden spoon
Brown paint
Brown craft foam
Our lovespoons symbols template printed on to card
Glue
Our printouts (see below)
Instructions:
Paint the wooden spoon with brown paint and leave to dry.
Choose the symbols that you would like to put on your spoon (look at our Lovespoon symbols meanings printout to help). Draw the symbols onto the foam. If you prefer, you can print, cut out and draw around the symbols you choose from our template to help.
Cut out the symbols and glue them along the length of your spoon handle.
Lovespoon Card

You will need:
A blank card
Our template printed on to brown card or paper
Glue
Our printouts (see below)
Print out our template onto brown paper or card. Cut out the spoon and glue it to the centre of your card.
Choose the symbols that you want to use (look at our symbols and meanings printout to help) and cut them out. Arrange them down the handle of the spoon. When you are happy glue them into position.
Lovespoon Playdough Mat

New - a crafty idea for younger children! Grab the yellow playdough and mold a daffodil to sit on this stalk. Find the printable here:
Lovespoon Playdough Mat
Lovespoon Symbols - Printables