This paper basket craft can be adapted and decorated for almost any occasion and made by any age of child (with help as appropriate).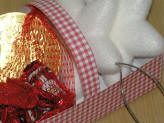 Using our scrapbook papers and printer card you can create a wonderful, colourful selection of baskets - or use heavier coloured or glossy card for a different effect.
They are perfect for Christmas, filled with goodies or Christmas decorations. At Halloween you could fill them up with treats for any spooky visitors to your house. Of course at Easter they are perfect filled with shredded paper and Easter eggs. Imagine how pretty they could look at Valentine's Day covered in hearts and filled with little chocolates! How about filling them with Indian sweets and treats at Diwali?
Help the children make one for each place setting at Thanksgiving or any family occasion and use them to hold a napkin, a place name, some flowers, chocolates or other bits and pieces.
How about having a craft party? Each child decorates their own basket and then uses it to take home their "going away" treats.
Instructions
These baskets are easiest made using our grid paper and card which can be fed through your printer so we start with instructions on how to do it that way - Method 1. Your children can decorate the second side of the card themselves or you can choose one of our many scrapbook paper designs.
You can alternatively print out our grid paper onto normal printer paper or card and glue it to another material - perhaps wrapping paper (gift wrap) or even fabric. See Method 2 below.
Finally, we give instructions for using heavier non-printable materials such as pre-printed or glossy card in Method 3. You will need to use this method if it is essential that the inside of your basket
1. Start by choosing a suitable design for basket from our selection of scrapbook papers, and print it out onto printer card. Designs which have no obvious "way up" are best.
2. Put the card back into the printer and print out our small grid paper onto the second side. Every printer varies so you may have to fiddle around a little to work out how to do this!
3. Trim the edges so that you have complete squares on your grid and the pattern on the other side covers the grid totally. Save any off-cuts of pattern to make the handle.
4. Count in 7 boxes from each edge and draw a pencil line from edge to edge along as shown below. (Vary the dimensions of your box by changing the size of the grid and the number of boxes that you count in from, but always come in the same amount on each edge).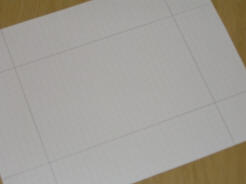 5. Fold each edge along the lines in turn, creasing well. If you card is stiff it is easier to first score along the lines (place a ruler along the lines and then "draw" along it with a blunt biro, the edge of a blunt knife or a pair of scissors. You aren't trying to cut the line, just make it easier to crease).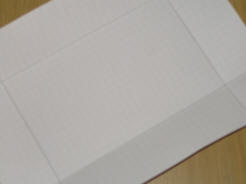 6. Now cut carefully along the short edges as shown in the photo below.
7. Turn your basket over and apply glue to the four corner squares (marked with a sticker in the photo below).
8. Turn the box over again and fold the corner squares in to form the box/basket shape.
9. Use a further strip of card, ribbon or similar to form a handle, and fill your basket as appropriate for the occasion!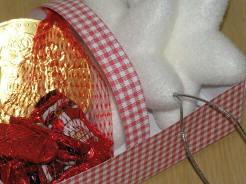 1. Print the small grid paper onto paper or card as appropriate for whatever material you are using to make your basket. If you are using a fairly heavy card or wrapping paper, you will be able to print it onto normal paper. If you are using a thin wrapping paper or a fabric, print onto card to provide stiffness for your basket.
2. Glue the grid paper carefully to your chosen material making sure that you use a light covering of glue all over the grid paper and paying particular attention to the edge. Allow to dry.
3. Trim the edges of the grid paper as in 3. above and proceed as in Method 1.
This method is slightly more difficult than the grid method above as a certain amount of measuring and drawing with right angles is required! It does allow you, however, to use stiffer cards in larger sizes, and you won't have the grid paper showing on the inside of the basket.
1. Use any rectangular piece of card and decide how tall you want the edges of your basket to be.
2. Measure in this amount from all sides and mark with a pencil and ruler as shown above.
3. Score along these lines and crease each edge in. Rub out the pencil marks if you wish.
4. Proceed as in Method 1.
Note: If you are making a large number of baskets or if you are working with very young children, it can be helpful to make a square card template to the appropriate measurements for your border. Show the children how to place the template in each corner of their rectangle and draw around it. Use these guidelines to crease and cut the rectangle.
Ideas for decorating your baskets
Use ribbons, buttons and bows.
Use sequins, glitter, "jewels" and stickers.
Older children could decorate their card using fonts in all shapes and sizes. How about writing the name of the recipient of the basket over and over again?
Cut out old photos.
Use crafty bits and pieces like pompoms, card toppers or pipe-cleaners.
Use colour themes - red and pink for Valentine's Day, green for St Patrick's Day, purple and silver for Diwali, and so on. Cut out extra shapes as appropriate.
Use craft foam shapes, felt, old scrabble tiles and jigsaw pieces - whatever you can find!
Use cotton wool and glitter for a snowy look.
We are sure you will come up with many more ideas!