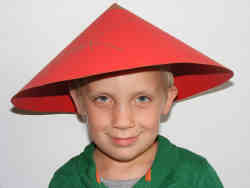 The Chinese farm workers' hat (pictured below) originates in South East Asia and was made of straw. Its wide brim was designed to protect field workers from the sun and rain. It could also be dipped into water and then put on the head to cool its owner as the water evaporated! Your kids can have fun making and decorating their own version in our Chinese farm workers' hat craft.
You will need:
Large sheet of red card
Gold pen or paint
Glue or sticky tape
Instructions:
Tie a piece of string to a pencil. Hold the string in the centre of the card. Hold the pencil so the string is taut and pull it round the centre to draw a circle.
Cut out the circle. Now cut out a segment of the circle - about one sixth of the total, as shown below.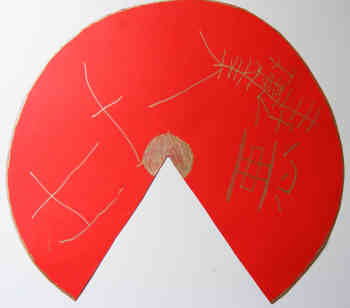 With the gold pen or paint, colour the middle of the hat and draw a line around the outside edge. Perhaps you could decorate the hat with Chinese calligraphy characters (our calligraphy cards will give you some ideas.
Bend the edges of the hat together to form a cone and glue or tape in place. Attach a wide ribbon inside if you wish.
Explore Activity Village