Make a Christmas sleigh for your table centrepiece, the sideboard, entrance way or classroom, and use it to display your smaller Christmas presents this year! It looks great filled with Christmas crackers, too. Or perhaps the teddies would like a sleigh ride?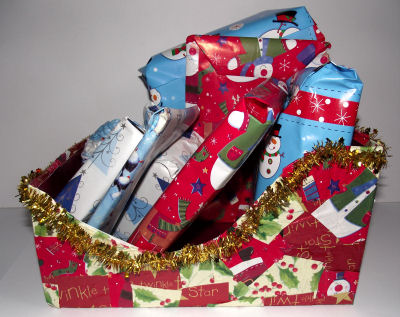 Here is our Christmas sleigh piled high with presents!
You will need:
A box
Wrapping paper
PVA glue (white glue)
Coloured card or paper
Tinsel and other decorative bits and pieces
Instructions:
Cut the edges of the box to make a sleigh shape, using our photos as a guide.
Rip scraps of wrapping paper and glue them all over the box. Paint over them with a layer of PVA glue to stick down any loose edges and give added strength.
Cut pieces of card or paper to fit the inside sides of the box and glue these into place. You could paint the inside of the sleigh if you prefer.
When everything is dry, decorate the sleigh with tinsel and other decorative bits.
Fill with sweets, teddies or small presents. You could fill with 24 small numbered presents as an advent calendar with a difference!
Explore Activity Village