Here is a quick way for children to dress up as Medusa - the Gorgon with a head of snakes from Greek mythology! (We also have a Medusa wig craft, suitable for older children).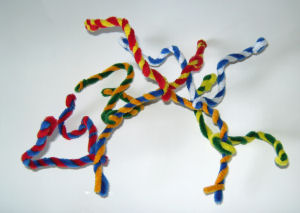 Medusa Headband Instructions
You will need:
Pipe cleaners (chenille stems)
Sticky tape (optional)
Hairgrips (optional)
Take two different colour pipe cleaners and twist together.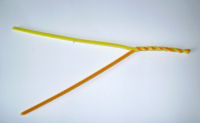 Fold the ends back over and twist to secure sharp edges (you can use a piece of sticky tape too). This is a snake. Make 4 more in different colours.
Take another pipe cleaner to be your headband. Find the half way point on your snake, twist around the headband and curl into 'snake shapes'.
Twist your other snakes into place. To secure the snakes twist another pipe cleaner around the headband. Tape the ends of the headband to seal any sharp edges and bend into head shape. A couple of hairgrips will help keep it on the head.
(An even simpler version can be made by twisting the 'snakes' around an old hairband (alice band).
Explore Activity Village