Why not dress up for Thanksgiving in your own pilgrim bonnet! Easy to make in any size, so that it fits your child - or the doll collection!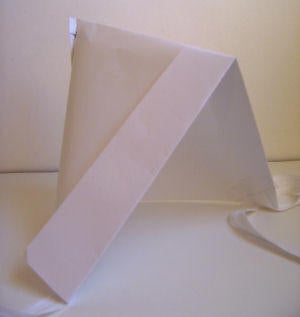 You will need:
A3 sheet of thick white paper/ thin card
Glue stick
White ribbon
Sticky tape (or strong glue)
Instructions:
Fold a strip about 2 inches wide along the length of the card, to form the front brim of your bonnet. Fold the card in half, with the fold on the outside. Fold the back of your bonnet over about ½ and inch and glue to secure. Tape or glue two pieces of ribbon to the front of your bonnet.
Explore Activity Village