We used bits and pieces from our junk cupboard as well as scraps of fabric and found objects from the garden to make this miniature indoor garden - a great project for a rainy afternoon, to being the outdoors inside!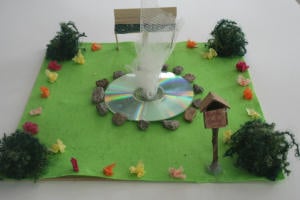 You will need:
A small square of wood or tough cardboard for the base
Green felt or other fabric to cover
Green wool or sponge for the bushes
An old CD, scraps of fabric, tissue paper, cardboard and other bits and pieces
Twigs and pebbles from the garden
Instructions:
Gather all your materials together and begin to design your garden, using our ideas as a starting point but letting your imagination and the objects you have on hand help you come up with your own ideas, too.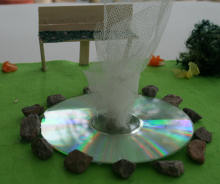 We used an old CD as a formal ornamental pond, surrounding it with pebbles and attaching a spray of white netting as a fountain in the middle.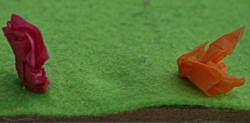 Tiny twists of colourful tissue paper stuck to the base suggest flowers.

Our garden bench is assembled from scraps of balsa wood and cardboard, with a rectangle of green floral fabric as the seat.

We built a birdhouse using scraps of corrugated cardboard and a twig from the garden. To stand it up we used a big dollop of glue from a hot glue gun (older children must be supervised when using a hot glue gun, and younger children should let an adult apply the glue for them). Notice the bush made of a loose, scrunched up ball of green wool (yarn).

We are sure you can think of many other ways to decorate your own miniature model indoor garden!
Explore Activity Village