Make your own snow globe with a few simple supplies. Kids can make this craft as simple or as complicated as they like, using "found" objects inside or - like us - modelling their own. Snow globes are always a favourite at Christmas!
You will need:
Small glass jar
Polymer clay (alternatively use a small decoration)
Glycerine
Glitter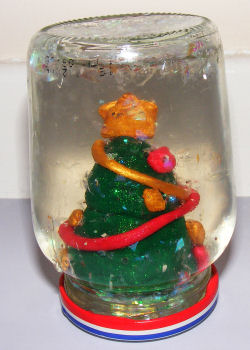 Instructions:
If you are using clay, make a small model on the lid of the jar. Bake according to the manufacturer's instructions. If you are using a decoration, just glue it carefully onto the lid of the jar.
Fill the jar with water and a tablespoon of glycerine. Sprinkle some glitter into the jar.
Screw on the jar lid. You may like to secure the lid with strong glue, especially with young children!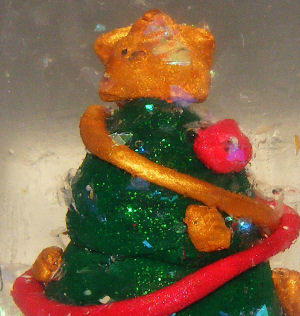 Snow globe detail - this photo shows the glitter!
Explore Activity Village