Malaysia
We'll have some interesting facts about Malaysia here soon, but in the meantime scroll down to enjoy our collection of flag printables - including jigsaw, bookmarks, notebooking pages, booklet and three sizes of flag to print - and our Malaysian flag colouring page.

Kuala Lumpur's urban landscape, with the Petronas twin towers in the background. They are 452 metres tall and were the tallest buildings in the world from 1998 to 2004. The skybridge on the 41st and 42nd floors is the highest 2-story bridge in the world.
A Little About Malaysia...
Malaysia, a country in Southeast Asia, is made up of of two regions, West and East Malaysia, divided by the South China Sea.
West Malaysia is south of Thailand and north of Singapore on the Malay Peninsula and comprises 11 states and 2 territories. Malaysia is linked to Singapore by a bridge and a causeway from Johor. Singapore was part of the Malaysia Federation between 1963 and 1965.
East Malaysia, on the island of Borneo, comprises the Malay states of Sarawak and Sabah (and territory of Labuan). Sabah was once called British North Borneo. The country of Brunei and Indonesian Kalimantan are also on Borneo.
And Some Interesting Facts...
Melaka, once called Malacca, was a trading port where the first Sultan on the Malay Peninsula adopted Islam in 1430 CE.
The local currency is called ringitt, meaning jagged, after the sharp edges of the Spanish silver dollars used during the Portuguese colonial period.
The Cameron Highlands were popular with British tea planters. The cool damp climate suited tea and reminded the British of home!
The capital, Kuala Lumpur, has a large Chinatown and an area called Little India, reflecting the large minority of Chinese or Indian descent.
The tallest flagpole in the world, in Independence Square, is 95 metres high.
Taman Negara National Park rainforest is 130 million years old. Tigers and elephants live in the pristine forest along with indigenous Batek people.
The worlds largest flower, Rafflesia arnoldia, is native to Malaysia. It grows up to 90 cm wide. It is a parasite growing on other plants, so has no roots or leaves. It also smells like decaying flesh, so is nicknamed the "corpse flower"!

Corpse flower, Malaysia (photo by Joel Villanueva, Creative Commons licence)
Sipadan Island is one of the world's top dive sites. At Barracuda Point hammerhead sharks and hawksbill turtles swim amongst colourful reef fish.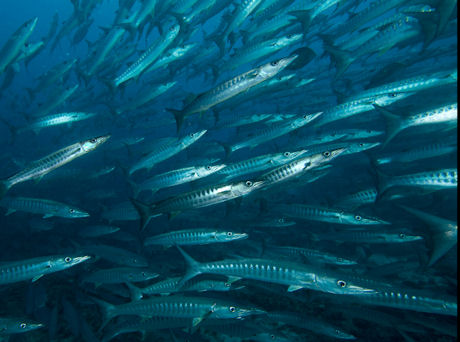 Barracudas at Barracuda Point, Sipadan, Malaysia (photo by Barry Peters, Creative Commons licence)
Birds nest soup is made from bird saliva which has been collected from Gomantong Caves in Sarawak for hundreds of years.
Sarawak Chamber in Gunung Mulu Park, is the largest cave chamber in the world. It is long enough to fit 8 jumbo jets in a line!
Find out what the flag of Malaysia symbolises, and enjoy our collection of printable flag resources...
Explore Activity Village