Maldives
Find out a little about the very exotic Maldives, and print out our collection of flags and flag activities, useful for all sorts of projects and occasions.

A beautiful Maldives beach
A Little Geography...
The Republic of the Maldives is a diverse group of 1,200 largely uninhabited islands in the Indian Ocean.
The Maldives is the smallest Asian country both in size and population and the country with the lowest highpoint - at just 2.4 metres!
The Maldives is world famous as an exotic holiday destination for those seeking pristine beaches and privacy.
Male, the capital, crams 75,000 people into just 1.7 square kilometres. It is a bustling market town, linked by steamship to Sri Lanka and India, and it relies of fishing and tourism.
A Little History...
Early settlers from Ceylon and Southern India left a legacy of culture, language and Bhuddist religion.
In 1153 the Maldives became a Sultanante. The conversion to Islam is recorded on a plaque on the Juma Mosque in Male.
And Some Interesting Facts...
The Boxing Day tsunami of 2004 created 14 feet waves which flooded the low-lying land, highlighting the risks of rising sea levels from global warming.
The coral islands are home to 1100 species of fish, including the scorpionfish, whose poisonous spikes can be fatal if you step on them.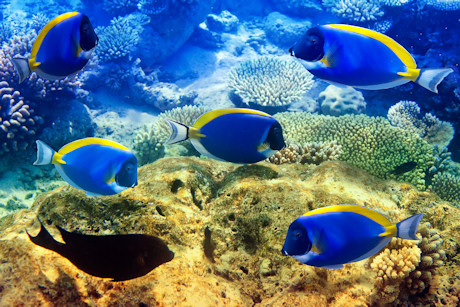 Under the sea in the Maldives
The local hotels make the most of the location. There is an underwater restaurant, an underwater nightclub and plans to build a floating golf course!
Locals enjoy a seafood diet. 'Mas riha', tuna curry with coconut milk, is a typical dish.
A collection of free Maldives flag printables to use at home or in the classroom. Find three sizes...
Explore Activity Village