Important Maori men always had distinctive facial tattoos, often very intricate designs which were time-consuming and very painful! Women sometimes had tattoos around their mouths and chins, too. Kids can design their own Maori tattoos and wear them with pride with this mask craft. this is an excellent group activity and works across the age groups too.

Jack's Maori tattoo mask
You will need:
Brown card
Black pen
Elastic or craft stick
Instructions:
Cut a face shape from brown card. Cut out the eye shapes. Decorate with black pen to look like facial tattoos.
We've got some photos of carvings showing traditional Maori tattoos for inspiration for you here: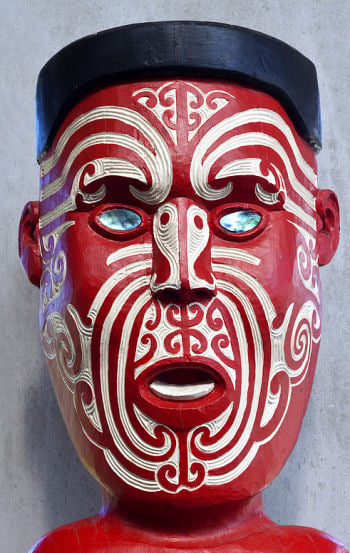 When you have done your design, punch a hole either side above the ears and tie some elastic through. Alternatively glue a craft stick to the chin and hold the mask to your face.

Sam's Maori tattoo mask
Explore Activity Village