This maple leaf mobile is an excellent Canada Day craft for kids, who will enjoy cutting out and assembling the maple leaf shapes from our template.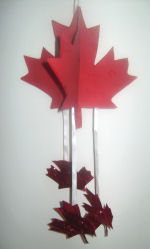 You will need:
Red card
White glue
White ribbon
Red glitter (optional)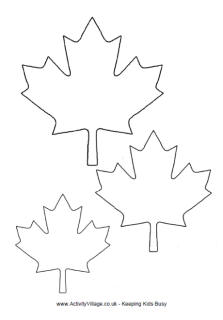 Maple leaf template
Using our printable template, cut three large and six small maple leaves out of red card. To add a bit of sparkle you can cover one side of each of the smaller leaves with glue and sprinkle with glitter. Leave to dry.
Cut 4 lengths of white ribbon, each about 8 inches long.
Take one of the large maple leaves and cover one side in glue. Stick a piece of ribbon to the top point of the leaf. Stick two more pieces of ribbon hanging down, one either side of the leaf stem. Fold the other two large leaves in half. Lay them side by side so they form the shape of a maple leaf and glue them over the top of the first leaf.
Glue a piece of ribbon hanging down from one of the two open maple leaf sides. Glue the last two sides of the large maple leaves together so they form a circle.
Finally glue a small leaf to the end of one of the pieces of ribbon that hang down. Stick another leaf back to back with the first, sandwiching the ribbon between them. Repeat with the final two pieces of ribbon.