Children enjoy watching the different colours used on the plate merge into one another and create an unexpected design - although they can end up a bit murky! This plate is for display purposes only.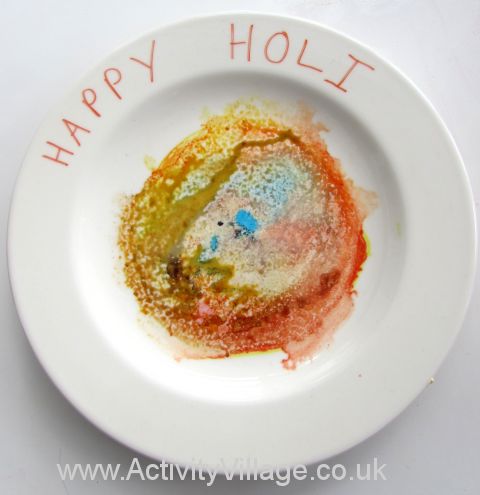 You will need:
A white plate
Sharpie pens
Rubbing alcohol (surgical spirit)
Fixative spray (we used hairspray but for a longer lasting surface acrylic sealer spray would be better)
Clear varnish (optional)
A pippete
Instructions:
Draw and colour a circle in the middle of the plate.
Carefully drop puddles of rubbing alcohol onto the picture. The ink will lift up and run. Go slowly and carefully and add the rubbing alcohol in tiny drops so that you have some control over what happens.
Leave to dry.
Spray with fixative.
Write Happy Holi on the plate rim.
Varnish if you wish.
Don't forget - the plate is for display only!
Explore Activity Village