Do you leave out mince pies For Santa on Christmas Eve? Kids can decorate their own plates for Father Christmas this year - they are fun to do and make a really special keepsake, too.
You will need:
A small white ovenproof plate (ours were 50p each)
Porcelain pens or acrylic paint pens (you can use porcelain or acrylic paints but pens are readily available and are so much easier for younger children).
Instructions:
Plan your design on a piece of paper first if you like. When you are happy, simply draw your design on your plate. Leave to dry.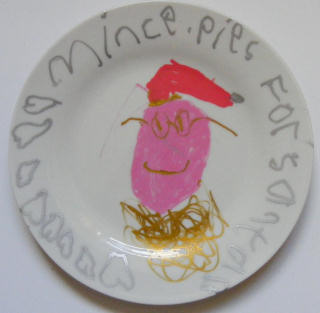 If you have used porcelain pens your plate may need to be baked in the oven. Make sure an adult reads the instructions on your pens and supervises if this is necessary.
If you use acrylic paints your plates will not stand up to regular washing, but as these are not meant to be used more than once a year (and then a quick wipe should be enough) they should be sturdy enough to last a good few years!
Explore Activity Village