Make some of these beautiful little mini blossom trees with the kids - it's a sweet craft for Chinese New Year, Spring or perhaps a Japan theme. And won't it look pretty on display!
You will need:
Florist foam (from craft shops or florists)
4 Brown pipe cleaners (chenille stems)
Pink tissue paper
Glue
Instructions:
Rip up small pieces of tissue paper and scrunch into balls.
Cut the pipe cleaners into 2 pieces. Don't cut them all exactly in half - make sure you end up with a variety of lengths.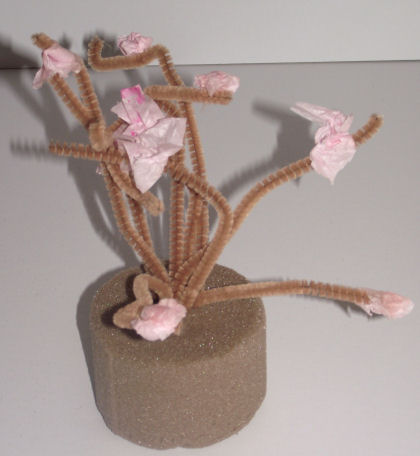 Push one end of some of the pieces into the centre of the foam and bend the pipe cleaners. Twist a few pieces around others to form branches.
When you are happy with the shape of your tree, dab the scrunched up balls of tissue paper with glue and stick on to the branches. This gets tricky as your fingers get gluey so it helps to keep a wet wipe to hand!