Montenegro
Here we take a brief journey to Montenegro to discover some interesting facts about this European country! Scroll down to find out Montenegro flag printables.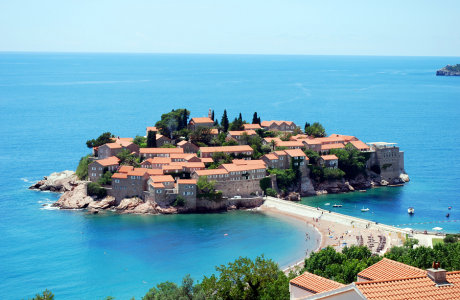 Exclusive Sveti Stefan Island, Montenegro
A Little Geography
Montenegro is a compact, mountainous country in south-eastern Europe.
The name Montenegro literally means 'Black Mountain' in Italian. Montenegrins refer to their country as 'Crna Gora' .
Montenegro is surrounded by Croatia, Serbia, Bosnia and Herzegovina, Albania and Kosovo with a south western coastline on the Adriatic Sea.
Kotor, a coastal city, was part of the Venetian Republic. It sits in a bay that is often mistakenly called Europe's most southerly fjord.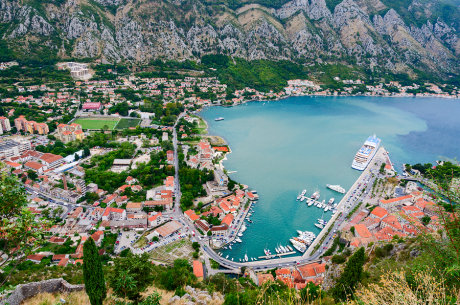 View down to Kotor and Kotor Bay
The Tara Gorge in Durmitor National Park is Europe's deepest and longest river canyon. The steep sides of the canyon descend 1,300 metres.
Podgorica is the largest city and capital, but the President's house and government offices are inland at Cetinje, the former capital, home to many old embassy buildings which are now used as museums and cafes.
A Little History
This land was colonised by ancient Greeks and was home to the Illyrians before Slavic tribes arrived in the 6th century CE. Romans, Byzantines, Serbs, Venetians and Ottomans have all ruled here, but the 670,000 Montenegrins remain a proud independent people.
Although Montenegro recently spilt from Serbia to regain independence in 2006, it was the 27th independent country in the world at the time of the Berlin Conference in 1878.
And Some Interesting Facts
Sveti Stefan island once attracted many film stars like Sophia Loren to its hotel. It was reopened in 2009 and is now one of Europe's most exclusive places to stay.
The Olive Tree of Mirovica, in the village of Bar, is possibly the oldest tree in Europe. It has been growing for over 2,000 years!

Ancient olive tree in Bar, Montenegro
Montenegrin families are arranged in clans, like the Scottish highlanders. Clans date from the period of Ottoman Rule in the 16th century. Local clans are grouped to form tribes.
Our Montenegro Activities
We have various sizes of the Montenegro flag to print as well as a colouring page, bookmarks,...
Here are our fact-finding and location worksheets for the European country of Montenegro ...
Explore Activity Village