Number Sudoku
With traditional sudoku puzzles you need to fit the required numbers into the grids so that each number features only once in every row, column and box. They are a great test of logic and are fun for all ages from young to old.
Activity Village produced the first ever "sudoku for kids" puzzles available, and we are proud of our puzzles! We grade them very carefully so that children can progress through the stages and hopefully never find a puzzle which is too hard for them and puts them off. We start with 4x4 grids, then move up to 6x6 grids, and finally offer 9x9 grids. And of course we have fun "word sudoku" puzzles too.
If you are a beginner or would like to pick up some tips for solving sudoku puzzles, have a look at our How to do Sudoku Puzzles guide.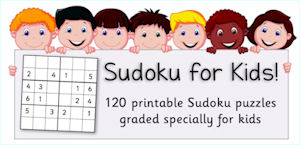 We have free puzzles below, but if you want more, or would prefer the convenience of having a carefully graded collection of puzzles, you might also like to have a look at our newly-revamped, best-selling download Sudoku for Kids - we've sold thousands of copies since 2005!
Sudoku for Kids
Explore Activity Village