What could more spectacular than a set of Olympic rings made out of donuts! These make the perfect tea-time treat or desert if you are hosting your own Olympic Games event, or just a fun snack during the Olympic Games to keep kids interested. They will have fun making the coloured sugar, too.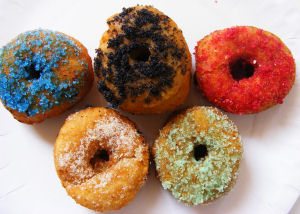 You will need:
5 small ring donuts (either shop bought or make your own)
Honey or golden syrup (or corn syrup)
coloured sugar (red, yellow, green, blue and black) - coming soon!
Mix a tablespoon of honey or syrup with 2 tablespoons of warm water and stir until it all dissolves.
Dip a donut in the syrup and then sprinkle with one of the coloured sugars. Turn over and cover the other side of the donut in the same way.
Repeat until you have a donut in each colour.
Arrange your donuts on a plate in the pattern of the Olympic rings. Admire!

Making coloured sugar
Explore Activity Village