Olympic Games
The Olympic Games, both summer and winter, are a wonderful opportunity to get the kids excited about sport, friendly competition, national pride and counting medals!
"The most important thing in the Olympic Games is not to win but to take part, just as the most important thing in life is not the triumph, but the struggle. The essential thing is not to have conquered, but to have fought well."
Olympic Creed
Tokyo 2020 / Tokyo 2021!
Are you ready for the sporting event of the year? It may be a year late, and it may be a quieter event than normal with no spectators allowed, but that doesn't mean that the Summer Olympics will be any less exciting and I'm sure we will all be glued to our tellies to watch our country's teams take part - and win medals! The Tokyo Olympics will run from 23rd July to 8th August 2021.
As always, Activity Village has a huge collection of activities that you can use to get the kids interested and involved. Choose from general Olympic colouring pages, learning resources and fun printables, drill down to find your child's favourite sports, use the occasion to study the Ancient Olympics, or print out flags and decorate the house / classroom to support your athletes! There is something for everyone below.
And of course, the Tokyo Olympics are a great excuse to learn a little bit more about Japan and Japanese culture, too.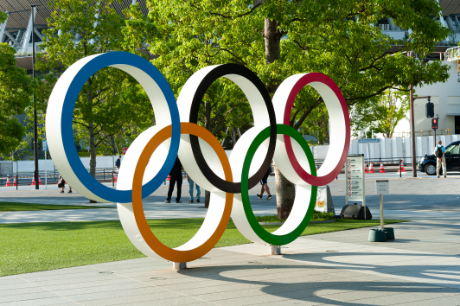 The Olympic Rings outside the Tokyo Olympic Stadium
Our Summer Olympic Activities
Learn about the modern Olympic Games, enjoy colouring pages and puzzles and fun printables, or try some Olympic themed crafts and recipes!
What do you know about the modern Olympic Games? We've compiled a short history and pulled...
Famous Olympians
We've picked some famous Olympians from the past, from all over the world, and created a range of resources for each. There are amazing stories to inspire... and some familiar faces from the present as well as names that the children will probably not have heard of before.
This Year's Host - Tokyo, Japan
Learn a little about Japan - it's geography, culture, crafts and games - and enjoy a range of fun and learning activities for home or school.
Support Your Country!
The Olympics are the perfect excuse to get patriotic, fly your flag and support your country - or go all out and fly everyone's flag! Or try one of our patriotic crafts, adapting it to your own country.
Summer Olympic Sports
Follow along with all your favourite sporting events - or get the kids interested in something that catches their eye - with our collection of sports activities.
There are 4 sports this year that we haven't yet covered - Karate, Modern Pentathlon, Skateboarding, and Sport Climbing. Check back soon for those!
Where Next?
The next host city for the Summer Olympics, due in 2024, is .... Paris!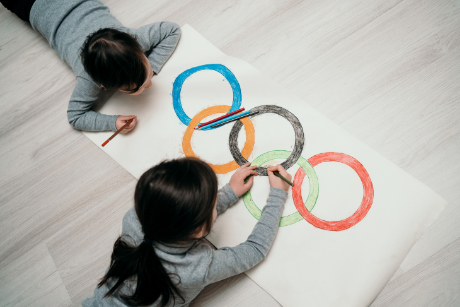 The Ancient Olympics
How did it all start? Find out here!
Winter Olympics
Which do you prefer - the Summer Olympics or the Winter Olympics? Both are exciting and inspiring for children. Here we cover the Winter Olympic event and sports. Next stop Beijing in February 2022!
More Ideas...
Why not pick one of the competing countries and learn something about it from our Around the World section? Or choose a sport for a deep dive?
"Swifter, Higher, Stronger"
Official Olympic Motto