Origami
Origami is a fascinating and creative craft for kids, especially if you can find origami models appropriate to their age. Not only will children get a real sense of satisfaction out of making these fun origami models, but they will be getting practice at following instructions, increasing their manual dexterity, and producing a fun and decorative end-product. Enjoy these easy origami models, specially adapted to make paper folding fun for children! Simple photo instructions and videos make folding easy. We have origami for all sorts of holidays and occasions and for every day too - explore below!
To follow traditional origami diagrams and instructions you must learn, and be able to follow, various symbols and techniques. Our testers found them difficult to understand. So, to make our origami as clear as possible for children, we have photographed our models each step of the way. We hope that you and the kids can follow along easily!
Explore all our origami models below, or scroll down to explore by Topic and Holiday.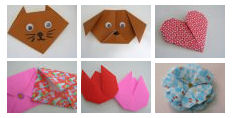 All Origami in Alphabetical Order
Origami for Kids by Topic

Ideas for Using our Origami Models
Make a greetings card... dress them up with ribbon, bows, accessories, backing paper as appropriate
Tape them to a wooden spoon and use as puppets
Make with a very large piece of paper and turn into masks
Create a farm or other animal scene, sticking the models to a large piece of paper and drawing in the background
Make a mobile by stringing the models up with thread
Turn into a fridge magnet to give as a home-made gift
Fold a mini animal or bird model and use as a pencil topper
Stick to a strip of card to make a bookmark - another cute gift idea
Use as "pieces" in a home made board game
Frame your own picture
Decorate a notice board at home or at school
Jazz up your breakfast boiled egg by adding an origami animal with double sided sticky tape (perfect at Easter!)
Make adult and "baby" animals or birds by using different sizes of origami paper

Comments from our Visitors
"I found this site just today as my children asked about learning origami, not my favourite subject as in the past 10 years, I've purchased three different 'origami for beginners' kits and have never managed to complete a single (simple!) project
"Today, I made my first origami 'basket' - whilst my 8 and 9 year olds made their first fleet of ships, flowers, a zoo full of origami animals and more. The instructions are excellent - by far the best I've seen and the projects are great. What a great way to spend a rainy day and the children enjoyed it immensely... as did I for once"

Make An Origami Scrapbook or Ring Binder
One of the downsides of origami is having an annoying collection of paper creations cluttering up the house, and nothing in particular to do with them!
The majority of the origami models at Activity Village are "flat" and therefore lend themselves to an origami scrapbook or ring binder.
Your child can store their precious work, show it off when they want to, add to the individual pages with drawings, writing, stickers, or other embellishments, and date their models so that they have a record of their achievements and progression.
We used an inexpensive cardboard A4 ring binder to store our origami models, divided into three sections:
First, we hole punched various pieces of coloured card for the front of the binder, onto which we stuck our models. Some pages we filled up model by model, as we finished them, dating them and adding one or two comments along the way. Other pages we "themed" - using a dark blue piece of card as a background for our various fish models, and adding some stickers to make it look more interesting. We attached our models to the card with a glue stick.
Second, we added a number of plastic sleeves into which we slipped the origami instructions we had printed out, ready to try.
Third, we used sticky-tape to attach a large envelope to the inside back of the ring binder, in which we store our origami paper safely.

More Craft Ideas

Paper Cup Crafts