These Christmas Chains aren't strictly origami - but they work well with origami paper! Very quick and simple to do, you can also use last year's left over Christmas gift wrap, squares cut from last year's Christmas cards, scrapbook paper, construction paper - even pages cut from spare magazines!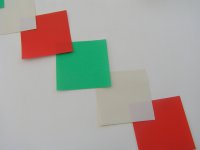 Simple get the kids to glue the square together as shown using a dab of glue stick in the corner. You can reinforce the join with a Christmas sticker if you like, or add further decorations. To make the process really quick you could staple the joins and then cover the staple with a sticker.
Vary the size of the squares, or keep them all the same. If you want them the same, you might like to cut a template out of cardboard and ask the kids to draw round it before cutting. Or use a paper trimmer and cut the squares quickly yourself, and leave the kids to do the assembly and decoration!
The finished chains are fun running down the walls or door surrounds, around windows and arches and notice-boards, and over fireplaces.
Explore Activity Village