Get creative with our painted wellies! This is a lovely way to update old Wellingtons and would be a nice way to personalise 'hand-me-downs'. The result is not permanent. Designs can be removed whenever you want with nail varnish remover or will chip off after about a month. Enjoy changing the design ... every month you can have a new pair of wellies!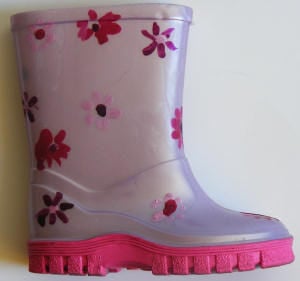 You will need:
Plain Wellingtons
Different shades of nail varnish
Instructions:
Cover your work surface well. Lay the boots on their side. Decorate with one colour of varnish, being as creative as you like.
Leave to dry for at least 5 minutes.
Turn over and finish your design on the other side. Leave to dry for another 5 minutes.
Repeat with other colour varnishes until you are happy with your design.
NB: Please do this craft in a well ventilated room!
Explore Activity Village