Pakistan
Discover a few interesting facts about the world's third largest country (by area) and enjoy our collection of Pakistan flag printables and Pakistan flag colouring page, below.

The mountain Nanga Parbat reflected in a pond at Fairy Meadows, Pakistan
A Little Geography...
The Islamic Republic of Islam is in South Asia, bordering India to the east, Afghanistan to the west and north, and Iran and China in the southwest and northeast.
Pakistan is not only the third largest country in the world by area, but the sixth largest by population - with a population of over 180 million.
Pakistan's lands vary from snow-capped mountains to deserts and coastal wetlands. The climate varies from tropical to temperate, and as you can imagine the flora and fauna is very diverse.
Islamabad is the capital, but Karachi, with a population of 13m, is the largest city.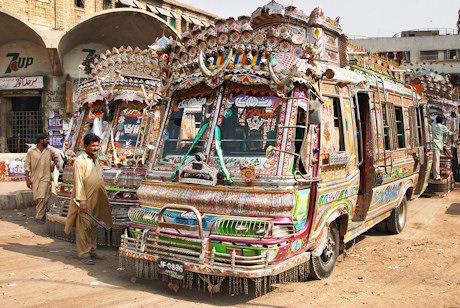 Colourful local buses in Karachi, Pakistan
A Little History...
The area that is now Pakistan was home to several ancient cultures and faiths and ruled by many empires over the centuries - lastly the British Empire.
In 1947 Pakistan became an independent nation for Muslims, and in 1956 a new constitution declared it an Islamic Republic. Pakistan as we know it today came into being in 1971 when East Pakistan seceded and became Bangladesh.
And Some Interesting Facts...
Pakistan translates as "land of the pure" in Urdu and Persian.
Hockey is Pakistan's national sport and the national team has an impressive record. But cricket is the most popular sport across the country!
One of the first serious PC viruses was created by two young Pakistani brothers in 1986.
About half of the world's footballs are made in Pakistan!
We have Pakistan flag printables in three different sizes, notebooking pages, bookmarks and...
Explore Activity Village