Here's a fun character that kids can make for St Andrew's Day! All you will need is a paper cup and a ping pong ball and some simple craft cupboard supplies.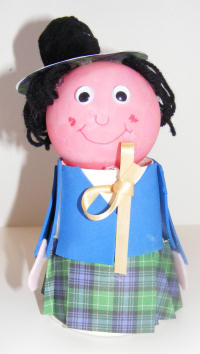 You will need:
Paper cup
Ping pong ball or similar
Pink paint
White paint
Tartan paper
Felt or foam in blue and pink
Wool
Pompom
Ribbon
Wiggle eyes
Glue
Double sided sticky tape
Pens
Instructions:
Paint the cup white and the ball pink and leave to dry. Stick the ball to the bottom of the cup.
Cut an arch shape from tartan paper. Fold little pleats along the length, leaving a flat piece at on end. Stick a length of double sided tape around the middle of the cup and roll the tartan paper around this to form a kilt.
From the blue felt, cut two small pieces to be the waistcoat and glue in place. Cut a rectangle from the blue felt that reaches from the top of the kilt to the top of the cup and cut a small "V"' shape off each corner. Glue to the cup to form the jacket. Cut two arms from blue felt and two hands from pink. Glue one hand to the end of each arm and the other ends of the arms to the jacket.
Tie a small bow in the ribbon and glue on for his bow tie.
Glue wool on to the top of the ball as hair.
Cut two circles from your tartan paper. Glue them back to back to make his tam o'shanter (hat), and then stick to the top of the head. Finish with a pompom.
Finally glue on two wiggle eyes and draw on a nose and mouth.