Here's a quick and easy turkey craft that the kids will enjoy making for Thanksgiving! Use them for your Thanksgiving table by making one for each place setting and attaching small white cards to the front with your guests names on them.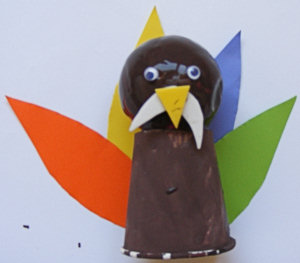 You will need:
A paper cup
A polystyrene ball
Brown paint
Scraps of craft foam in yellow and white
Craft foam in at least 3 bright colours
White (PVA) glue
Wiggle eyes
Instructions:
Paint the cup and ball in brown paint and leave to dry.
Glue the ball to bottom of the cup.
From the white foam, cut a tiny arch shape to be your turkey's beard. Glue this to the ball. Cut a yellow triangular beak and glue this on top of the beard.
Glue on the two wiggle eyes.
Cut four long ovals of foam. Spread these in a fan shape and glue them to the cup to make a tail.
Explore Activity Village