Here's a quick way for kids to make a paper plate castanet - perfect for celebrations (such as New Year's Eve or birthdays) or for a kitchen band!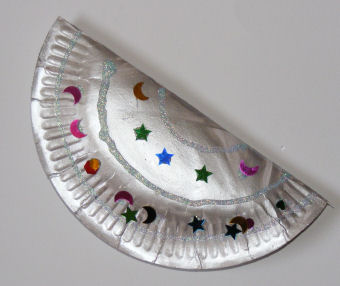 You will need:
Paper plate
Paint (silver or gold)
Sequins
Glitter glue
Lids from plastic milk/juice bottles
Strong glue
To make:
Paint the back of the paper plate and leave to dry.
Decorate with glitter glue and sequins.
Fold the plate in half (with the paint to the outside) and, with strong glue, stick the milk bottle lids along the inside edge of the plate, making sure to leave a gap a couple of inches either side of the fold line.
When the glue is dry, play your castanet by holding it between your thumb and fingers and clicking together.
Explore Activity Village