Kids can transform some basic craft supplies into this super paper plate diplodocus. We had fun with the bubble wrap painting, too! Doesn't he look great?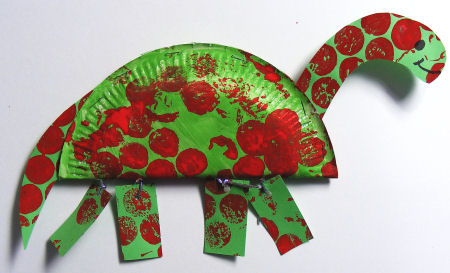 Paper Plate Diplodocus - complete!
You will need:
Paper plate
Green card
Green paint
Red paint (or any other colour)
Large bubble wrap
Elastic
2 split pins (paper fasteners)
Stapler
Instructions:
Paint the plate green and leave to dry.
Paint the bubble wrap red (or your chosen colour) and print on to the card. Repeat on the plate. Leave to dry.
Cut four legs, a tail and neck from the green card. Use our photos for guidance.

Paper plate diplodocus - head detail
Fold the plate in half. Open out again, and along the fold make four holes with a pencil (younger children should ask an adult to do this bit).
Make a hole at the top of each leg with a hole punch. Thread a piece of elastic through each leg and tie tightly. Thread the other ends of the elastic through the holes in the plate and knot.

Paper plate diplodocus - legs and tail detail
Fold your plate in half and staple the two sides together.
Make a hole either side of the plate and in the ends of the tail and neck. Attach the tail and neck to the body with split pins.
Draw on a face. If you would like to hang your diplodocus, make a hole at the top of the body and tie some elastic through to make a loop.
Explore Activity Village