Turn two paper plates into a goat - with the help of some paint, scissors and a child or two! This fun craft is perfect for a farmyard theme or for Year of the Goat.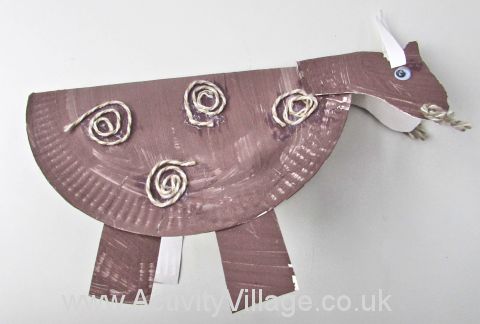 You will need:
2 paper plates
Brown paint
Cream wool
Glue
Wiggle eyes
Cream card
Instructions:
Paint the back of each plate and leave to dry.
Fold one plate in half with the paint on the outside. Glue spirals of wool over the plate.
Fold the second plate in half.
Draw a neck and face so the nose sits along the fold. See the photo below as a guide.

Close up of our paper plate goat, showing the head and neck
Cut out the head.
Glue the ends of the neck along the fold of the body plate.
Cut two horns from cream card, and glue onto the head.
Stick on the wiggle eyes.
Glue some scraps of wool on the chin.
Cut out 4 small rectangles for the legs from the remaining pieces of the second plate. Glue the legs around the rim of the body plate.
To hang the goat, make a hole along the fold towards the neck and thread some wool through.
Explore Activity Village