Here's an idea for a quick paper plate harvest basket that the children can paint and cut out. Fill it with our vegetable clipart!
You will need:
Paper plate
White card
Brown paint
Brown pen
Coloured paper or a printout of our fruit and vegetable clip art
Glue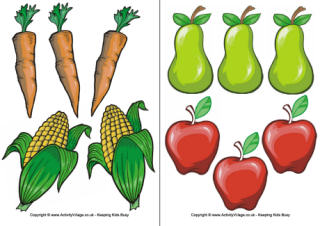 Fruit and vegetable clipart
Instructions:
Paint the back of the plate brown and leave to dry.
Carefully cut out a semicircle from the middle of the plate, leaving the rim as a handle. See our photo below.
Draw around the outside of the paper plate onto white card and cut out the circle. Run a thin line of glue around the edge of the circle and press the plate on to it. Wait until it dries. Alternatively, adults could staple around the edges.
Use the brown marker pen to add some criss-cross basket weave patterns to the basket.
Cut fruit and vegetable shapes from coloured paper (or use our clipart) and fill the basket.
Explore Activity Village