Make this gorgeous paper plate robin - it's a quick and easy craft for Christmas or a wildlife or bird theme, perfect for preschoolers.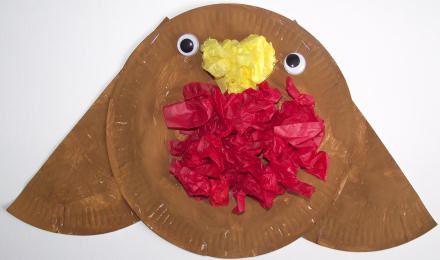 You will need:
2 paper plates
Brown paint
Red and yellow tissue paper
Wiggle eyes
Glue
Instructions:
Paint the back of the plates brown and leave to dry.
Cut one plate in half and staple the two halves to the back of the other plate to form the wings.
Rip the tissue paper into small pieces and scrunch into balls.
Cover a circle in the centre of the body with glue and stick on the red tissue paper balls to make the breast.
Glue a triangle for the beak and stick on the yellow tissue paper balls. Finish with two wiggle eyes.