A simple dinosaur craft activity for younger children, our paper plate stegosaurus is fun to make and paint and looks great too!

The completed paper plate stegosaurus!
You will need:
Paper plate
Green and yellow paint
Strip of green card
Glue (or stapler)
Pen
Paint the middle of your plate and the lower half of the rim green. Paint the top half of the rim in yellow or your preferred other colour. Leave to dry.
Using the photos as a guide, cut out the head, legs and the start of the tail out of the green-painted section of the plate. Do not cut into the flat part of the plate.


Paper plate stegosaurus - leg detail
Now, using our photos as a guide, cut into the yellow rim to form the spikes. Again, do not cut into the centre of the plate. Save the scraps of yellow!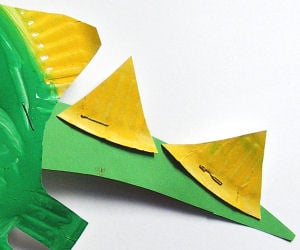 Paper plate stegosaurus - tail detail
Cut a tail from the green card, and stick to your plate. Use the yellow scraps that you cut off the plate to add spikes to the tail.
Draw on a face.

Paper plate stegosaurus - face detail
Explore Activity Village