Paper chains aren't just for Christmas! We've made these patriotic paper chains for the Diamond Jubilee and the Summer Olympics 2012, but you could change the colours to suit all sorts of patriotic occasions.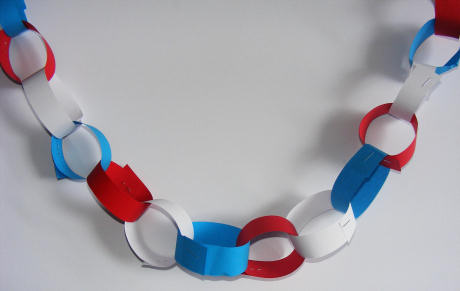 Simple but effective, paper chains are fun to make, even when it isn't Christmas!
You will need:
Paper in red, white and blue
Scissors
Stapler, glue or sticky tape
Instructions:
Cut your paper into strips. Roll each strip of paper into a circle and fasten by glue, sticky tape or with a stapler (adult supervision required).
Put the next strip of paper through the circle and form the next link of your chain. Keep going until your chain is long enough!