This patriotic pen pot craft bears a striking resemblance to Uncle Sam's hat! It is quick and easy craft for kids of all ages for Fourth of July.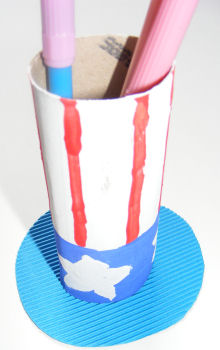 Patriotic pen pot craft
You will need:
Cardboard tube (toilet roll)
Red, white and blue paint
Blue card
Glue
(Optional white paper and a star craft punch)
Instructions:
Paint the bottom of your tube blue and the top white. Leave to dry. Paint red stripes onto the part of the tube you painted white (look at our photo).
Either paint on some white stars or punch some out of white paper and glue them on to the blue.
Cut out a circle of blue card and glue your tube into the center.
Leave to dry and fill with pens.