Pick up an inexpensive stationery set from a Pound or Dollar store this year, and let your children transform it into a set they will be really proud of!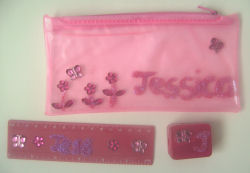 You will need:
Stationery set
Acrylic gems
Strong, fine tip glue
Super fine glitter
Plan a design, then, when you are happy, glue on the gems with the strong glue and leave to dry.
Use the fine tip glue to write on your name and draw on a design. Sprinkle the glitter so all of the glue is covered, and tap off any excess.
When the glue has dried use a paintbrush to dust off any excess glitter.
Explore Activity Village