All you need are some while paper plates, paint and patience to put together this clever phases of the moon mobile. Not only does it look great, but by the time the kids have coloured in the plates and assembled the mobile they should certainly understand how the phases of the moon work!
You will need:
8 paper plates
Black paint
Glue stick
Ribbon
Instructions:
Using our phases of the moon poster to help, paint the paper plates - one for each moon phase.

Colouring paper plates for the phases of the moon
When the plates are dry, arrange them in order.
Fold the first 2 plates in half. Put glue on the back of half the second plate and stick to the back of the first plate, matching the edges as closely as you can.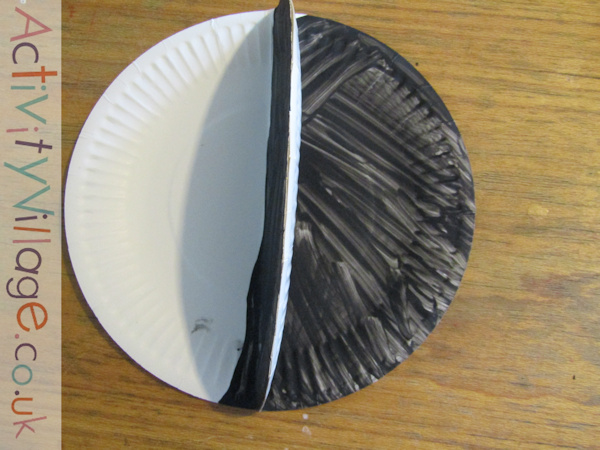 First steps in assembling the moon mobile
Fold the third plate in half and put glue on the back. Stick it to the back of the second plate.
Repeat until your have stuck on the last plate. Don't join them all up yet, though!
Glue a length of ribbon and attach it to the back of the last plate so that you can use it to hang the mobile.
Glue the last plate to the first plate.
Hang up your mobile and watch it twirl!
Explore Activity Village