Here's a fun way to give a gift with a hidden surprise! Make them with your little ones for Spring, Easter or Mother's Day... they are a super classroom take-home activity for Mother's Day in particular.
You will need:
Card in green and another colour
Photo (passport size)
Paper fastener
Our template (below)
Instructions:
Use our template to cut the petals stem and leaves from card.
Glue the leaves to the base of the stem and then glue your photo to the largest petal.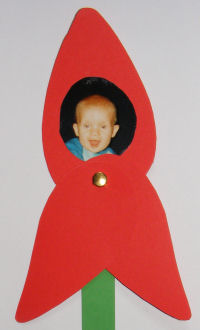 Layer your petals to form your flower and punch a hole at the bottom.
Punch a hole at the top of your stem.
Use a paper fastener to attach your flower to the stem.