Don't you love this funny spider? Despite his googly eyes, I'm not sure I'd like to meet him in the dark on Halloween! These pompom spiders can be hung around your room or simply left on windowsills, mantelpieces and nooks and crannies to surprise and delight!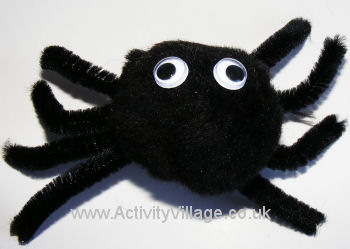 You will need:
2 black pipe cleaners (chenille stems)
A black pompom
A pair of wiggle eyes
Glue
Instructions:
Cut the two pipe cleaners in half. Lay the four halves of pipe cleaner side by side, then twist them together in the middle.
Glue the pompom to the middle of the pipe cleaners.
Stick the eyes to the pompom.
When you are sure the glue is dry, bend the pipe cleaners so your spider's legs are spread out. Now put him on display!

Another pompom spider!
Explore Activity Village