Here's a crafty way for kids to make their own portfolio for school work or art work! A fun kids craft for all ages.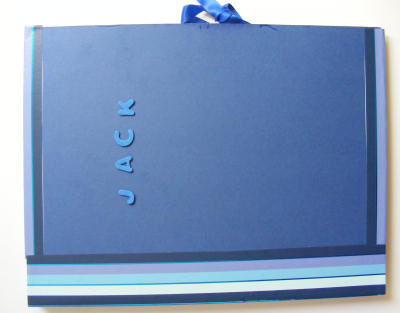 You will need:
2 pieces of thick cardboard about 25 by 34cm
Wrapping paper (gift wrap)
Double-sided tape
Ribbon
Decorations (stickers, letters etc - whatever you have in your craft box)
Instructions:
If you want to cover all of your card, cut two rectangles of wrapping paper about 30 by 40cm. Tape around the edges of the card, remove the backing strips and carefully position them in the middle of the wrapping paper. Trim the corners of the paper and fold over the back of the card, taping in place.
Cut two more rectangles of wrapping paper 12cm by 22cm. Concertina each into six 2cm pleats.
Run tape along the top and bottom of each piece of card. Remove the backing and stick the outside fold of your concertina along the top of one of the pieces of card. Turn over and stick the other outside fold to the top of the second piece of card.
Repeat at the bottom.
Cut another rectangle of wrapping paper 18 by 34cm. Zigzag fold so the first pleat is 5cm, followed by four 2cm folds and ending with a 5cm fold.
Run two lines of tape down the length of the card. Remove the strips and stick your wide fold in place. Turn over and repeat with the back cover making sure to keep things lined up.
Tape two pieces of ribbon to the open edges of the portfolio so that it can be tied closed.
Decorate with stickers or anything else you like.
Explore Activity Village