Fun for St Patrick's Day, this pot of gold collage is an easy craft for kids of all ages.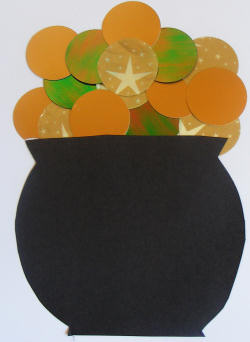 You will need:
Black paper
Gold paper and card (in different textures). You could even save the coverings from chocolate gold coins!
Paper
Circle craft punch (optional)
Instructions:
Punch or cut circles from the gold paper. Cut out a pot shape from the black paper.
Arrange your pot and coins on the paper. Glue down when you are happy with the arrangement.
Rainbow guiders: As part of your Pot Of Gold Celebrations. why not make a large version with coins the size of saucers, with one coin per girl? The girls could draw or write on their coin the activity that they have enjoyed best at Rainbows, and then tell the group as they add it to the pot.
Alternatively, the girls could make a "pot of gold friend collage". When a girl is leaving, all of the other Rainbows could give her a gold coin (cut from card) with their name on. She could then glue together the collage to remind her of all her friends.
Explore Activity Village