Make your own Russian dolls, also known as matryoshka or babushka dolls, with this printable children's craft. We have a pre-coloured version or a set that the kids can colour in themselves.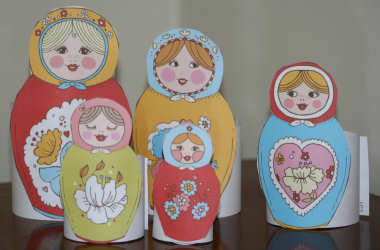 Instructions:
Choose between the dolls below and print out onto paper or light printer card.

Printable Russian dolls 1


Printable Russian dolls 2


Printable Russian dolls 1 - colour

Printable Russian dolls 2 - colour
Colour (if appropriate) and cut out the dolls carefully.
Now print out the two pages of the body template below and cut out. We used scrap paper but you could use coloured printer paper or light card.

Russian dolls body template
Lightly spread the bottom half of each doll with glue stick - from the widest part of their body down. Match the dolls up with the appropriate strips of paper, and place them in the centre of the strip, so that the bottom edge of their body touches the bottom of the strip. When dry, circle the strip and fasten at the back, allowing a centimetre overlap. Glue or staple.
Your dolls are ready to stack!
Explore Activity Village