Is the sky grey outside? Get the paints out, put your aprons on and paint yourselves a rainbow mobile to hang in the window!
You will need:
Elastic thread
Beads (ours are colour changing in the sun but you could use any colour that you like)
Cardboard tube (kitchen roll, wrapping paper roll, loo roll etc)
Paint in the colours of the rainbow
Instructions:
Cut the cardboard tube into 7 rings and paint each in a different colour of the rainbow.
When the paint is dry, punch a hole into each ring and cut a small piece out of the other side of the ring so you have 'arches'.
Take a piece of elastic cord and thread it onto a bead. Knot the cord back through the bead so it stays in place.
Thread another couple of beads on the cord, followed by the red card arch. Then add a few more beads followed by the orange card arch and keep going until all the card pieces are in place.
Finish with a few more beads. Thread the elastic back throught the last bead and tie a knot to hold the beads in place.
Hang up your mobile in the sun.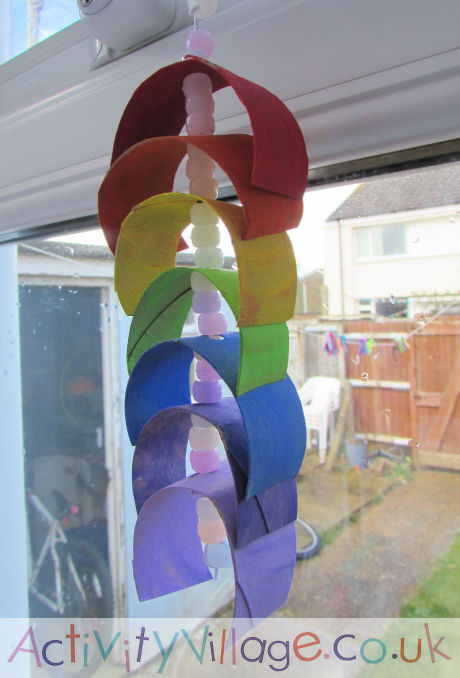 Explore Activity Village