This cute rat is a perfect craft for a rat theme, or for those born in (or welcoming in) the Chinese Year of the Rat! Quickly made with craft cupboard bits and pieces, your kids will want to display him proudly - perhaps you could attach him to the fridge with a magnet, or even make a miniature version for a badge?
You will need:
Grey card
Pink and white pipe cleaners (chenille stem)
Googly eyes (or scraps of card)
Miniature pink pompom
Scraps of pink card or craft foam for the ears
Glue
Sticky tape
Instructions:
Cut a semi-circle from your grey card, and roll it into a thin cylinder shape. Glue or sticky tape together.
Cut your white pipe cleaners into lengths and glue to the pointed end of the cylinder to form whiskers. Then glue on your pompom to form the nose.
At the open end of the cylinder, glue or tape a length of pink pipe cleaner for the tail.
Add googly eyes and two tiny ears cut from card (see photo below), and you are done!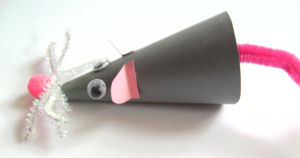 Explore Activity Village