This ribbon die-cut card is a good "assembly line" card when lots are needed quickly! You can of course cut your own shapes out of pretty Christmas paper very quickly, instead of using die-cuts.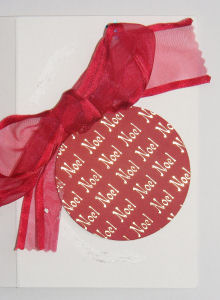 You will need:
A card blank
Fancy ribbon
Christmas diecut shapes
Glue
Tie a pretty bow in your ribbon, and glue it to the card. Trim the ends. Glue a die-cut shape to the middle of the card.
Explore Activity Village