This Robot Mask is quick to make and very effective for all ages. In the photo you can see we've used a basic shape of a triangle, but you could encourage the children to use any shape. In a class or group of children, perhaps you could assign different shapes to different children.
Cut your basic mask shape out of cardboard. Cut out your eyes, and a mouth if required. Make the main mask shape first. Cut a large sheet of kitchen foil and crumple it to give it texture, before carefully straightening out again. You can vary the amount of texture by the amount of crumpling! Paste white glue over the cardboard, then carefully place your kitchen foil over the top. When dry, trim the outside edges to fit.
Turn the mask over so that you are working from the cardboard side. Carefully slit the foil in the middle of the eyes and fold it back to the other side. Do the same with the mouth if you have one. Flip the mask over again and use permanent pens to colour the foil.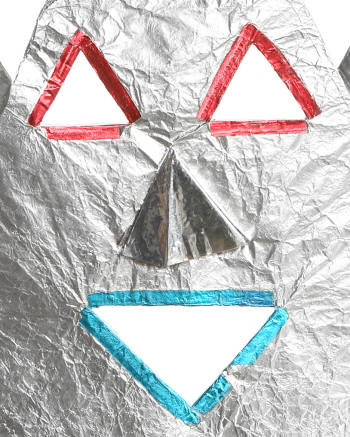 Robot mask detail 1
Make a nose by folding a triangle of foil in half and gluing on. Now add decorations to your robot.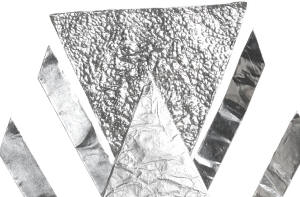 Robot mask detail 2
You could use more kitchen foil, crumpled to different textures. Or you could use washers, nuts and bolts from the tool box, or other bits and pieces from the craft cupboard.
Explore Activity Village