Decorate your house, your classroom, your windows, your mantelpiece, your books - you'll find plenty of places you'll want to display your row of snowmen with this imaginative paper craft for kids!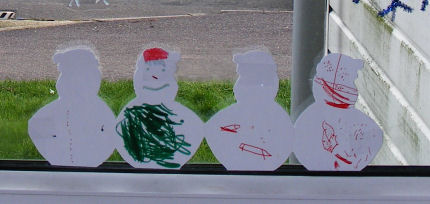 One of our rows of snowmen in the window
You will need:
White card or paper (we used A3 but the longer the better)
Pens
Instructions:
Cut your card into a long strip. Concertina fold the card. We folded ours into four sections (but with paper you could do more).
Draw a snowman shape on the card, making sure you touch both sides with the body so that when you cut out the shape, you can leave part of the folds intact.
Cut out the snowman. Remember not cut through all of the folds.
Unfold and you are left with a line of snowmen to decorate however you like. Ours turned into 'monster snowmen'!

More snowmen - including "monster snowman"!