Saint Helena
Learn a little about the island of Saint Helena and enjoy our collection of Saint Helena flag printables and colouring page.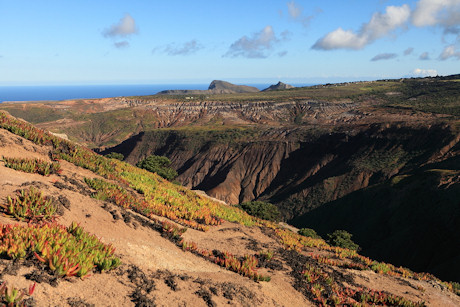 Volcanic terrain of Saint Helena
Saint Helena is an island lying in the South Atlantic Ocean. First discovered by the Portuguese in the early 16th century, the island became a useful stopover for ships sailing from Europe to Asia and Africa, and has also served as a prison to Napoleon!
The island is Britain's second oldest remaining colony - now British Overseas Territory - after Bermuda.
Saint Helena is one of the most remote islands in the world, although an airport, due to open in 2015, may change that. Tourists visit the island to see where Napoleon was imprisoned.
Saint Helena is said to make the world's most expensive coffee!

School kids with Jonathan, a giant toroise who is thought to be 150-200 years old, and weighs 440lbs!
---
The Saint Helena Flag
The flag of Saint Helena, as a British overseas territory, has the Union flag in the top corner on a blue field and the Saint Helena coat of arms towards the right. On the coat of arms you can see a coastal scene featuring a three-masted English ship and the Saint Helena cliffs, topped by the national bird of the island.
---
Our Saint Helena Resources
Explore Activity Village