Samoa
Find out a little about Samoa, and scroll down for our flag printables and colouring page...

Apia Harbour, Samoa
The Independent State of Samoa, formerly known as Western Samoa, lies in the South Pacific Ocean.
The Europeans first discovered Samoa when a Dutchman sighted the islands in 1722. By the 19th century, Britain, Germany and the United States were struggling to control Samoa. At one point in 1889 warships from all three nations waited in Apia Harbour (pictured above) and war looked imminent, but a massive storm destroyed the ships!
During the First World War, New Zealand seized control from Germany and administered Samoa until 1962, when it became independent.

We have a printable map showing Samoa's location within Oceania here. You'll have to look carefully!
---
About the Samoan Flag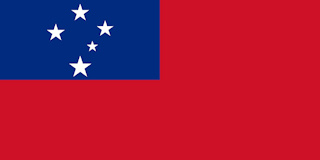 The white stars of the Southern Cross are featured on the Samoan Flag, with the blue said to represent freedom and red for courage. The flag was officially adopted on January 1, 1962.​
---
Our Samoa Resources
Explore Activity Village