Dress yourself up a scarecrow puppet from a wooden spoon and a few fabric scraps, and he will be a great addition to your puppet show! This makes a fun craft to do with kids during the autumn / fall season.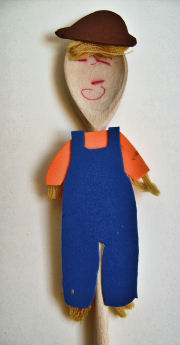 You will need:
Wooden spoon
Yellow yarn (wool)
Craft foam
Pens
PVA / White glue
Instructions:
Cut out a hat, top and dungarees from the craft foam and glue them to the front of the spoon.
Glue on some small pieces of yarn to the hat and where the hands and feet should be. Use your pens to draw on a face.
Explore Activity Village