Cheer up your outlook with a collection of cheerful tartan Scottie dogs! Using a paper plate for the "mobile" element of our Scottie dog mobile made this a quick and easy way to display our collection of Scotties.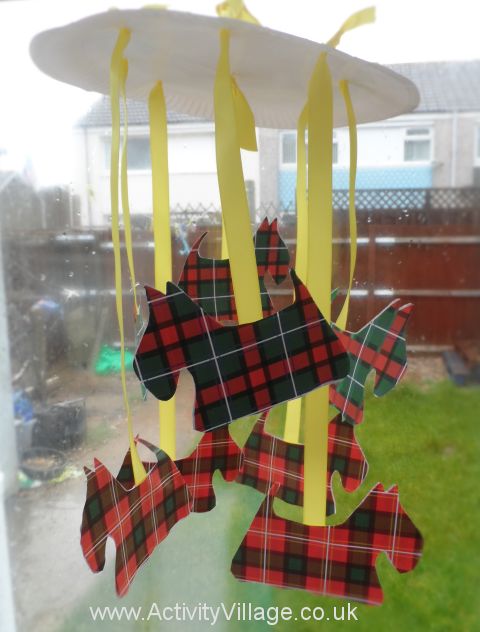 You will need:
Tartan paper (or whatever you prefer). We have a pretty blue tartan paper you can print, here.
Glue stick
Ribbon
Paper plate
Instructions:
Use our small scottie dog template to cut 8 dogs facing right from tartan paper, and 8 dogs facing left.
Match the dogs into pairs, one right facing and one left.
Glue the dogs back to back with tartan facing outwards, sandwiching a piece of ribbon between them.
Make 8 holes around the edge of the paper plate and one in the centre. We did this quickly by pushing through with a pencil.
Thread a length of ribbon through the centre hole and knot underneath. This is to hang the mobile.
Thread the ribbons from the dogs through the holes around the outside of the place, tying a knot to hold each in place.