Grab a box, raid the craft cupboard for interesting bits and pieces and paint, and make your own seaside diorama to put out on display. It's almost as good as going to the beach!
Making a diorama is an excuse to use what's lying around the house, thinking creatively about what you can use. For this seaside diorama, we've painted the inside walls of our box in a rich blue, adding in some scraps of netting to get ive texture. Our sea is made out of green paper and our waves are formed with string - all painted over with blue and green paint.
We used yellow corrugated card for the sand. You could use any yellow paper, sandpaper or smother card with glue and then sprinkle sand onto it, if you have some to hand! If you do that make sure it dries well and cover up your surfaces first!
Our beach umbrella was made using colourful scrapbook paper and a toothpick. A scrap of fabric became a towel, and we made a miniature book from paper.
You may have some little shells to hand but we didn't, so we printed out some photos of shells that we found online and cut them out.
Once you've assembled your diorama, it might be the perfect size for some lego figures or miniature dolls... after all, everyone likes a day at the seaside!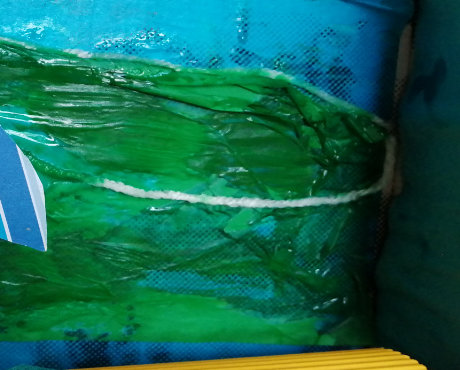 A closeup of our "waves"
Explore Activity Village